Back to List
Bridal Walk
March 27, 2014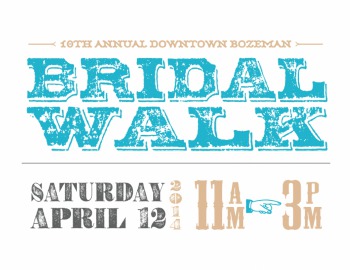 Saturday, April 12th from 11 to 3 is the 10th annual DBA Bridal Walk. Make sure you put it on your calendar!
Come down to the Gem Gallery and enter to win the following: a Yogo Sapphire Pendant - a $300 value, a free makeup application by Keri-lou at Hot Shots Salon valued at $75, and 45 minute Milkthistle signature facials valued at $45 each! You can also shop for wedding bands, bridal jewelry and wedding party gifts at the Gem Gallery - Bozeman's Premier Custom Jewelry Store.
We are rolling out the red carpet for brides, grooms and their entourage in Downtown Bozeman! Stop by the Baxter Hotel anytime the day of the event and receive a bag of goodies to help you on your way! Then, stroll Main Street and discover over 35 participating businesses listed below that can help you with all of your wedding needs. Find everything from dresses, rings, invitations, flowers, gift registries and more. See live music, partake in wine, cake, and hors d'oeuvre tastings along the way, and have the chance to win many in-store giveaways and raffles such as free diamond earrings, custom designed wedding rings and much more! Also, find out how to win a $500 gift certificate to be used at any of the participating businesses!
More of What's New