Back to List
20th Anniversary
October 6, 2014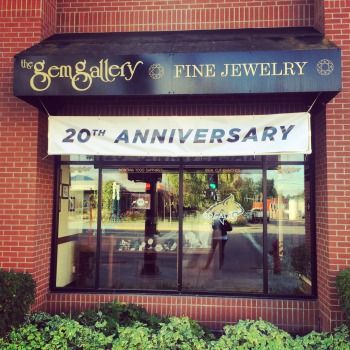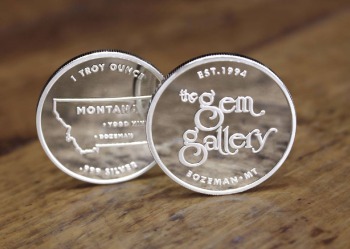 The Gem Gallery has officially been in business for 20 years!
In 1994, Bozeman was a growing city with a vibrant downtown. That year, Don Baide went from making custom jewelry for faithful friends and clients out of his own house to opening The Gem Gallery's first store front at 107 North Grand Street. Since then, with the help of those same faithful friends and clients, along with many new additions, The Gem Gallery has continued to grow to the store we know today. Last summer, we moved to our beautiful new location on the corner of Rouse and Main and now we are celebrating our 20th Anniversary!
We want to thank you for your loyalty and patronage over the years! To show our appreciation, we invite you to join us throughout the entire month of October to receive a free gift with your purchase of $200 or more* - a limited edition 1 ounce Silver Commemorative Gem Gallery coin!
Plus, for every $200 you spend during the month of October, you get an entry into our drawing for jewelry prizes worth $20, $200 and $2,000! Spend $200, get 1 entry, spend $1,000, get 5 entries. The more you spend, the more chances you get! We will announce the winners at the end of the month.
On October 11th, from 10am to 4pm join us for an Anniversary party! There will be food, drinks, cake, door prizes and much more. Help us celebrate the last 20 years while looking forward to the next 20! We hope you can join us!
Don Baide & The Gem Gallery Staff
*Some exclusions apply. Limited quantity available. See store for details.
More of What's New